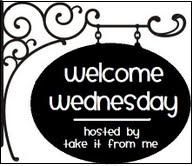 Today is Wednesday ... that means it's time for the lovely "Welcome Wednesday" blog hop hosted by the super-hip, awesome blog, Take It From Me!


Welcome to my little corner of the blogosphere, Ten Thousand Hugs!!! Take some time to look around, and if you like what you see, please consider becoming a follower and maybe even leave a comment or two!!!


Photo credit :: weheartit.com


And here's something new from my corner of the world...


I am incredibly proud to be an official contributor at Good List Daily, a website completely devoted to daily gratitude!! How cool is that??!!

Just click on the link below the illustration to see one of my lists...

As always, extending ten thousand ((hugs)) to you,