I came across this awesome project last night that seems as if it were created just for me...and it starts TODAY!!! It brings together two activities that bring me peace -- yoga and writing! Click on the link above to read more details about it and to find other bloggers who are participating.
Basically, for 21 days, I'll be doing 5 days of yoga a week and 800 words of writing per day.
Ahhhhh....I am feeling zen already!!!
79 words so far today...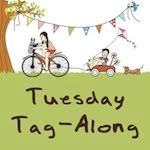 **This post is also part of the
30-Minute Blog Challenge
held at
Steady Mom
every Tuesday!!**
Namaste,