I am so thrilled to announce a new weekly feature here called "Ten Thousand ((Hugs)) to YOU Tuesday," where I showcase a blogger, crafter, reader, Etsy shop owner ... or, well, just about anybody!!!
Q. Both your blog and Etsy shop have "yellow" in the names - tell us about why yellow is your favorite color!
Yellow is such a happy color! I first realized how much I loved the color yellow right around the time that I met my husband, and he further encouraged my infatuation [not really sure why]. But due to the happiness of the color, and my further happiness at having it associated with my love, it has solidly remained my favorite! :]
Q. Please tell us about your Etsy shop - how and why you started it.
Well, like most things I do, it just kind of happened! My mother-in-law had told me about it last Christmas, but I had forgotten about it. Then, when I started blogging, I kept seeing amazingly crafty bloggers with adorable etsy shops, and it inspired me to start my own. Ever since I was a child I have loved making things for people. . . I still make my family members presents at Christmas time! I love the idea that somebody somewhere may be wearing or using something that I have made! Love that :]
Q. Please tell us about your blog - how and why you started it.
I saw Julie and Julia last December. . . hehe, I'm a little embarrassed to say that the movie was my initial inspiration! But I didn't actually follow my first inclination. It wasn't until January, when Valentine's Day was approaching, that I actually had a purpose for a blog. I was searching for fun Valentine's Day activities and crafts online, and I couldn't find any that I hadn't already done over the last two years. This overwhelming lack of holiday crafts was very upsetting, and I realized that I had some fun ideas that I had come up with that some other searching crafter may want to borrow. And thus I started my Valentine's Day Craft Blog. . . which I deleted a week later after seeing SO many adorable blogs with amazing etsy-worthy creations. I was inspired to make my own blog that was devoted to my crafting, with the hope that one day I would have a successful etsy shop as well.
Q. What do you enjoy most about blogging and having your own Etsy shop?
I love the friendships that I have made! I never would have thought that blogging would bring so many sweet, lovely people into my life- people I will probably never meet, but I still love sharing ideas and life with them through blogging. :]
Q. Tell us a bit about your "off-line" self - what is something we might not know about you, personally, just from reading your blog or visiting your shop?
I don't know if you can tell based on my blog, but I am a very shy person in real life [at least until I get to know a person- then the crazies come out!]. And the telephone is my absolute biggest fear. I dread having to make a call. . . or answer one. But I love being a wife and homemaker! Cooking, cleaning, decorating- all my favorite things. And I am so blessed to be married to a man who encourages me in all of my crafting endeavors. He is so supportive and loving, and I love him!
Q. Is there anything else you would like to share with us?
I just want to encourage all the ladies out there- if you've been wanting to craft more, but just haven't gotten around to it, blogging about it is a great way to keep yourself motivated. I've tried so many new [and initially scary] projects in the 6 months since I started blogging that I never would have tried before. It helps knowing that I've got to keep trying new things so that I can keep providing new reading material for my followers. And yes, I have produced more flops than ever [hehe, I just don't blog about those. . .] but I've also done things that I never would have thought I could do. Just go for it! :]
Here is a taste of Mandy's incredible creativity ...
Mary Elizabeth's Musings: Mandy is such a delightful blogging pal - so sweet and genuine! I contacted her as a result of seeing her giveaway on another blog, and she responded immediately with incredible enthusiasm!!! She quickly sent me one of her pink headbands in the mail as a sample for this giveaway, and I was very impressed with the quality and stunning beauty of it. It has been a sweet, playful accessory to my summer wardrobe! Ten thousand ((hugs)) to you, Mandy, for sharing your talents with us!
Mandy has very graciously agreed to give away one of her beautiful, crocheted headbands
, shown above those darling clutches!
To enter this giveaway, here are the guidelines:
Mandatory: You must be a follower of this blog, Ten Thousand Hugs, AND you must visit Mandy's Etsy Shop to decide which color headband you would choose should you win!

Extra entries can be made by following

Mandy's blog

(one extra entry) :: purchasing an item from her Etsy shop (five extra entries) :: and adding her shop to your favorites on Etsy (two extra entries)!

Please, please, please leave a separate comment for EACH entry, including the mandatory one, along with your e-mail address in each entry!!!

This giveaway will run from now through next Tuesday, July 6, 2010 at 11:59 pm CST.
BEST OF LUCK TO YOU!!!
** Are you interested in being featured here? If so, please contact me @ mclaingreen (at) yahoo (dot) com!!! **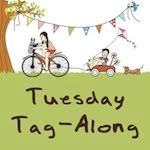 ** This post is part of "Tuesday Tag-Along", a weekly link party held at Twee Poppets! Click on the button above to join in the fun!! **

As always, extending ten thousand ((hugs)) to you,