Today is Tuesday!! That means it's time for my weekly feature, "Ten Thousand ((Hugs)) to YOU Tuesday," where I showcase a blogger, crafter, reader, Etsy shop owner ... or, well, just about anybody who extends kindness (aka 10,000 hugs) through their talents that they graciously share with the world!!!
Today's feature spotlights Shannon Honeybloom, the amazing author of Making a Family Home, a delightful book about creating a genuinely warm environment in your home. Read on to get to know her better ... I am sure you will fall in love with her beautiful, caring nature as I did while reading her lovely book.
Photos courtesy of Shannon Honeybloom
Q. Please tell us a little bit about yourself and your background.
I have lived in a lot of different places and in different countries, but for the most part, I grew up in New York State. The things that interested me as a child, are still passions of mine today -- homemaking (I was forever rearranging my room), acting (it's so much fun for me and is a great creative outlet) and writing (sometimes writing can be a chore, but often it is fun to figure out how to get it all down on paper).
I have three children and I live with my husband in Austin, TX. It's a great place to live and raise a family!
Q. Please talk about the inspiration behind your book, Making a Family Home.
Having children has been an incredibly humbling experience for me. And joyful too. Challenging, and rewarding also. When I had my first child, my entire world was thrown out of wack, and I wrestled with how to be a good mother, what it meant to be a mother, and how to make a nurturing home for my child and my family. Thinking about those things inspired me to put some of my thoughts on paper. And eventually my book grew out of that. It was a pretty long process for me. I never realized at the time I was writing a book. And of course the question of how to be a good mother and how to make a home is one I continue to explore, because new challenges always arise. Everyday I am learning new things about mothering and homemaking!
And meeting the photographer Skip Hunt was also an inspiration for me. His photographs are so beautiful and colorful.
Q. Please discuss the Waldorf educational approach and its impact on your book.
Waldorf education strives for balance -- educating the hands, head and heart. I went to a Waldorf school growing up, and I also taught high school English at one as an adult. My children go to a Waldorf school. A great website to find out more is
http://www.whywaldorfworks.org/
.
Q. When did you volunteer for the Peace Corps in Niger? What effect does that have on your life today, both as a woman and a mother?
After I graduated from college, in the 90's, I decided that I wanted to have an adventure, and that I also wanted to do something that felt worthwhile. The Peace Corps had been in my mind for a long time -- I have an aunt and an uncle who both served with the Peace Corps. My two and a half years there were incredibly formative ones for me. I think I learned a lot about gratitude and happiness while I was there. The people I lived with and worked with in Niger were extremely impoverished, they had very little in terms of material things. Even findng enough food was often a struggle. But the people I knew there were also incredibly joyful and I spent a lot of my time there laughing.
Q. Please tell us a little bit about your website, Honeybloom at Home.
My website is a a place for thoughts about homemaking, parenting and living in general. I share some of my own struggles and challenges and I explore life, often in the context of mothering, but if I am thinking about other things too, I'll write about that. I write a lot about slow living -- we often undervalue our time, and we are often so busy, that it sometimes makes sense to step back and take a deep breath and take some time with ourselves and with our loved ones.
Q. Please tell us something about yourself that we might not know just by reading your book or following your site.
I don't play golf, but I was recently in a national golf commercial, playing golf.
Q. What is your favorite quote? How does it inspire you?
Write now I am loving this quote from Goethe -- because it reminds me that dreams do come true!
"Our wishes foretell the capacities within ourselves; they are harbingers of what we shall be able to accomplish. What we can do and want to do is projected in our imagination, quite outside ourselves, and into the future. We are attracted to what is already ours, in secret. Thus passionate anticipation transforms what is already possible into dreamt-for reality."
–Johann Wolfgang von Goethe
Photos courtesy of Shannon Honeybloom
Mary Elizabeth's Musings
: After receiving Ms. Honeybloom's book in the mail for review, I knew immediately that I wanted to get to know more about this incredibly kind and gentle soul. I contacted Ms. Honeybloom to let her know that I would be reviewing her book on my blog, and I asked her if I could invite her for an interview here as well. Of course, she graciously accepted, and I have been even more humbled by her charm and grace! Ten thousand ((hugs)) to
you
, Ms. Honeybloom, for writing such an inspiring book and sharing your kindness with us all!
** Please be sure to check back here on Thursday for my review of Making a Family Home by Shannon Honeybloom!! **
** Are you interested in being featured here? If so, please contact me @ mclaingreen (at) yahoo (dot) com!!! **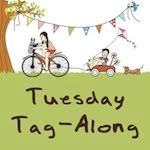 As always, extending ten thousand ((hugs)) to you,