Today is Tuesday!! That means it's time for my weekly feature, "Ten Thousand ((Hugs)) to YOU Tuesday," where I showcase a blogger, crafter, reader, Etsy shop owner ... or, well, just about anybody!!!
Today's feature spotlights Danielle from the fabulous children's book blog,
There's A Book
!! Read on to get to know her better ... I know you'll adore her as much as I do!!!
Q. What inspired you to start your blog, There's A Book?

My son. The Turkeybird, as I call him, has a form of Autism that made it next to impossible for him to speak until he was nearly two years old, and then it wasn't much. But for some reason he could read by the time he was around a year old, those were the only words we heard for a very long time. Because of this I went through book after book after book just feeding him what he loved, reading. He still does. And it was because of this struggle to find the "right" books for him that I wanted to help other parents looking for the "right" books for their own children, no matter the age or learning ability. There is always a book for every person, you just have to find it.

Q. What you enjoy most about blogging?
Without a doubt, the people I've "met" while blogging. Some of my closest friends are my blogging friends and some are now friends in "real life". I've loved getting to know everyone and finding that there is a community of like-minded people seeking to share and discuss what they know. Just love it!
Q. What has surprised you most about your blogging journey?
Discovering just how much I truly love children's books. When I started I think I enjoyed reading them to my son, more than anything, but as time has gone on it's surprising to me just how much I love children's books. I've gone through publisher's catalogs, giddy with excitement over the prospect of possibly feeling and seeing the pages of a new books I've never heard of before. It's helped me discover what I didn't appreciate during my own childhood and help to encourage my own children to now revel in the joy that is being a kid with an imagination.
Q. What is something about your "real" self that we might not know just by reading your blog?
That my husband and I met during a time when he was dating a roommate of mine. After she decided he wasn't "the one" for her we started dating for about a year. At that time we parted ways to each serve a mission for our church and only conversed via hand written letters for two years. When we came home, we were married three months later. It was a wonderful experience, truly.
Q. Do you have any blogging tips you would like to share?
Blog about what you love and give yourself a break every once in awhile. It's easy to get burned out, especially if your blog is highly focused, like mine tends to be. So, choose something you really enjoy and blog about it, but if you're having a bad day or are too busy once every few weeks…give yourself a day off! You deserve it and your readers will be just as excited to have you back with vigor in your next post.
Q. Anything else you'd like to share here? (Giveaways, promotions, fave quotes...anything!)
Favorite Quote - "You can want something more than you can say. That doesn't ever mean it's yours." (p.205 The Heart Is Not a Size by Beth Kephart)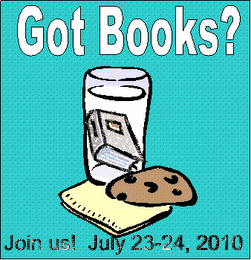 Got Books?
(
http://gotbooksevent.blogspot.com/
/) Is a joint effort with book blogger Gina from
Satisfaction from Insatiable Readers
(
http://insatiablereaders.blogspot.com/
) and myself aimed at promoting books through book bloggers. It's a two day event, happening from July 23rd through July 24th, where we celebrate everything bookish by hosting giveaways for book related items and talking up the books, authors and publishers we absolutely adore. It's going to be an event to remember and we hope to continue it on an annual basis, if not bi-annually. (I'm planning a giveaway to suit readers from all over the globe who love books from Children's to YA, so make sure to stop by!)
I also review at
Chick Lit Reviews
(
http://www.chicklitreviews.com/
) for those of you not interested in Children's books, you may find something you really love!

Thank you so much to Mary Elizabeth for having me on! I've loved getting to know her better and finding new friends through her fantastic sites. Thank you!


Mary Elizabeth's Musings: What can I say about Danielle??? For starters, she does so much for the book-blogging community - just take a look at her children's book blog, There's A Book, for a taste of her talent!! Beyond her blog, she organizes numerous book-blogging events and actively participates all around the book-blogosphere on a regular basis. She holds excellent giveaways on her blog regularly, along with well-written, honest reviews of children's books. Visit her site today and become a follower ... trust me, you'll be thrilled with her work!!! (P/S ... Has anyone ever seen such a super-cute button for a site??!! Isn't that little girl an absolute doll??!!) Ten thousand ((hugs)) to you, Danielle, for bringing everyone in touch with high-quality children's literature!


** Are you interested in being featured here? If so, please contact me @ mclaingreen (at) yahoo (dot) com!!! **



As always, extending ten thousand ((hugs)) to you,